WATER HEATER SERVICE
For Water Heater Repairs and Installation Services look to Roberts Plumbing! Call us today at (770) 967-1119 for immediate assistance. Click here to take advantage of our current Money Saving Coupons.
Professional Water Heater Service and Installation!
Are you shopping around for a new water heater in Oakwood, GA or surrounding areas? Or maybe you're looking to get your current one repaired. Our service technicians are familiar with all brands and models of heaters. Roberts Plumbing is the plumbing company to call. We are a Georgia-based & locally owned company who cares about our neighbors and community. We have the ability to serve both your Residential and Commercial water heating needs.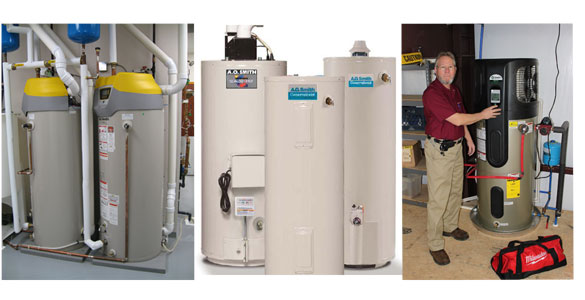 At Roberts Plumbing we offer the most reliable AO Smith® Tank Water Heaters. Because Roberts Plumbing is a top provider of water heaters, we have the highest level of AO Smith® Dealer status and our team members are factory trained.
We supply and install the best water heaters and we back that equipment up with a Roberts Plumbing labor warranty and 100% Customer Satisfaction Guarantee!
Roberts Plumbing Service Technicians will:
DRAIN the water from your old defective water heater.
DISCONNECT the defective heater and DISPOSE of the heater for you.
INSTALL a new AO Smith® Gas or Electric Water Heater. Connect the gas line or electrical connection. Reconnect the cold and hot water lines to the water heater.
INSTALL a new Thermal Expansion Tank per Plumbing Code if needed.
REFILL the New Water Heater.
TEST the New Water Heater and go over the operation with you.
TEST the Water Pressure in your Home or Business.
Why Should You Call a Professional?
Water heaters can produce extreme temperatures. The average heater produces temperatures around 120 degrees Fahrenheit, which can cause first degree burns. A malfunctioning heater can easily produce temperatures around 160 degrees, which can cause much more severe burning. It is best to allow a trained professional make the repairs than to take that risk yourself.
Signs You Need a New Water Heater:
A water heater is essential for everyday tasks in your home, like taking a shower and washing dishes. If your warranty is expired, buying a more efficient model will help you save both water and energy. It also keeps you from having to pay for an expensive breakdown in the future. If your unit is in a place where it will cause damage if it leaks, replace it immediately instead of risking mold, mildew, or water damage.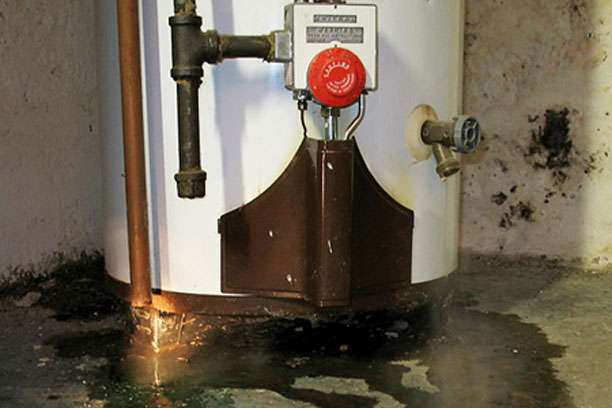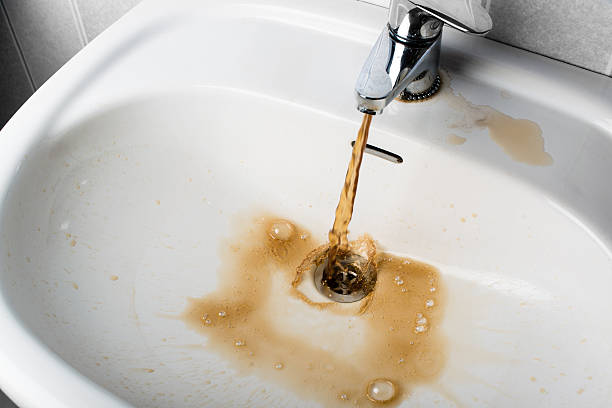 Tips on how to check if you need a new water heater!
Leaks are never a good thing. If you notice water puddling around your water heater, or it leaks when standing, it's a sign the inner tank has reached the end of its life. Slow drips and leaks quickly escalate, causing serious flooding if the entire tank breaks.
When you turn on the hot water, the clear water you are used to turns to a rusty color that is anything but pleasing.
You turn on the hot water to find no hot water. This can be caused by one of two things. One, your pilot light is out or the circuit breaker has tripped. Or two, your hot water heater has reached its useful life.
Muddy or sandy water can be a sign of sediment build up in your tank. In some cases, you can drain the contents to remove sediment and bring your water heater back to normal.
When you turn on the hot water, it has a metallic smell and taste to it. This is a sign that the water heater is breaking down, with grit and flakes from the inner tank combining with your water supply.
Warm water but not hot water can be an indication of your heating element burning out. Adjust your thermostat to make sure the temperature is set between 120 to 140 degrees, anything lower could provide warm but not hot water.
Noise is always an indicator. If you hear your water heater "loud cracks and pops for instance" it may be an indication that the interaction between the heating elements and the inside heater has mineral build up on them.
Learn More About Water Heaters in Flowery Branch, Oakwood, GA, and Surrounding Areas
If you are interested in learning more about our water heater services in Flowery Branch, Oakwood, GA, and nearby cities, please contact us today!